7. Kyle Lowry's failed shot at history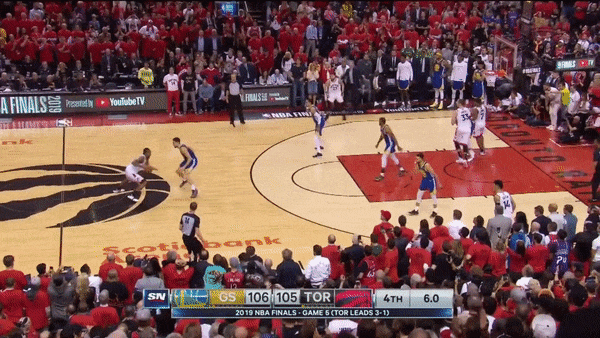 Upon further review, the shot was tipped. Here's the evidence. So leave Kyle Lowry alone. He doesn't need to cave any further into his own head.
Earlier, Kawhi made the right basketball move to pass out of the double-team, but the title was there for the taking. It would have been cool to see him wait until the last second to attack and shoot over two defenders.
"Two guys came up on me," Kawhi said after the game, laughing. "I don't know if I could have gotten a shot off."
6. That Kawhi run earlier, though…
That was nothing short of Jordan-esque, the type of run only a dozen people have ever been able to do.
Kawhi's 3-point, 2-point, 3-point, 2-point sequence was a 10-2 run by itself to give the Raptors a 103-97 lead with three minutes left, all after a subpar first three quarters.
Steph Curry, and others, missed shots during that avalanche. It felt like the official beginning of the end of the Warriors' dynasty.
Nothing could stop Kawhi at that point, except...
5. Nick Nurse's questionable timeout call
Other than the KD injury, this was the major talking point after the game. Fresh off Kawhi's 10-2 run, the Raptors were up six points with 3:05 left with the ball and all the momentum. But rather than play out the possession, Nick Nurse opted for a full timeout. The Warriors responded with a 9-2 run to win the game.
Said Nurse after the game: "Those two we took at the three-minute mark . . . We had two free ones that you lose under the three-minute mark. And we'd just came across and just decided to give those guys a rest."
Did it help the Warriors?
"Absolutely," said Draymond Green on SportsCenter. "They had it going there … once we took the timeout we were able to gather ourselves … that place was going bananas."
4. Boogieeeeee
Immediately after Durant went down with his injury, Cousins, who hadn't played a second up to that point and seemed to be out of the rotation, checked in and went on a 7-0 run by himself. He finished with 14 points for the game on 6-of-8 shooting.
(We won't talk about his illegal screen or two goaltending violations at the end of the game, which gave the Raptors a final shot at a game-winning shot.)
This season has mostly been a disaster for Boogie, but last night is the type of moment other teams considering him as a free agent want to see.
Plus, he had some golden quotes after the game.
On the fans booing KD: "Trash. So trash."
On people questioning KD's heart: "Fuck them. Fuck them."
3. This dance?
We're not trying to be jerks here…
But KD: Do you really gotta be DDR'ing before the game when you're one step away from an Achilles' tendon tear?
Sorry. Had to get that out there.
2. The crossover we never knew we needed
Before the game, during a shot of Jurassic Park, there was a fan holding up a sign of this image.
This is simply fantastic. One of the best things the internet has produced in ages. Klay Thompson is essentially the intelligent version of Patrick -- care-free, content in his role and happy-go-lucky. Maybe they'd even have the same opinion on scaffolding.
1. Systematic perfection
The only reason the world isn't celebrating a Raptors title is because Thompson, Green and Steph Curry went into killer mode for the final three minutes of the game last night. After Kawhi's run and Nurse's timeout, Thompson, Curry and Thompson nailed three 3-pointers, in that order, to go from down six to up three. All were cold-blooded, and Curry's game-tier had perhaps the highest degree of difficulty.
But Thompson's 3-pointer, the eventual game-winner, with under a minute left showed why this team and these players will be timeless.
Watch below: Curry's gravity pulls all five Raptors defenders toward him. He knows that, and flips the ball to Andre Iguodala, who knows an open 3-pointer is better than a layup attempt. He kicks it back to Green at the 3-point line, but Green knows this isn't his shot to take. It's Thompson's. In a millisecond, he swings it to the other Splash Brother, who calmly pump fakes Kawhi out of his way, and drains the dynasty-saving shot.
You don't have to like this team, but you gotta respect 'em.
Let's take this to your inbox. Sign up below.