With a win over fourth-place Portland last night, the Thunder are sitting at third in the Western Conference with a 29-18 record. Paul George is putting up 27 a night; Steven Adams is a double-double machine; Russell Westbrook, despite shooting splits of 41.6/24.2/65.5, is still doing this: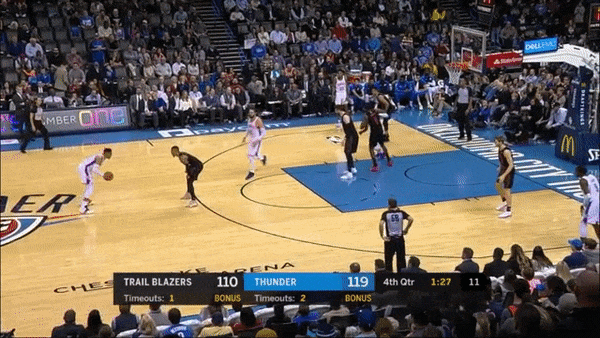 So, why aren't we convinced?
Partly because Westbrook is still doing this.
Early this season, we scolded Westbrook -- Who are you, Russell Westbrook?.
Then, only a month later, we took hyperbole to a new level -- Are the Thunder making the NBA Finals?
The roller coaster continues, guys. We're out again. Yep. Forever. We won't be tricked again. Sorry. Not happening. We've seen this team, with pop and pizzazz, be as exciting as ever. But we've also seen Joe Ingles talk trash to Paul George and back it up. It's deception after flattery. You can't trick us (again).
(Until next time.)
Also, Jusef Nurkic has a new name for Westbrook: Westbrick.
Let's take this to your inbox. Sign up below.