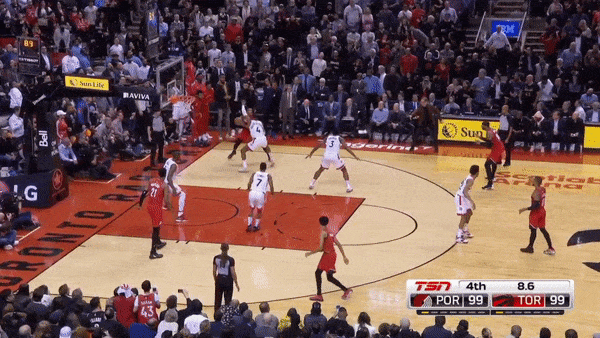 In early-2010, Dwight Howard was on the Magic, Chris Paul was on the Hornets, Carmelo Anthony was on the Nuggets, and Derrick Rose was on the Bulls.
(Plus, Howard Ratner was still alive.)
A whole bunch of teams later, those players are now on the Lakers, the Thunder, the Trail Blazers and the Pistons, respectively.
Over the last few days, though, they've all acted like Barack was still in office, like Kendrick Lamar was just blowing up, like our parents hadn't taken over Facebook yet, and like The Hurt Locker was the hot new movie:
Carmelo, 35, four teams since 2010, last night: Nailed the game-winner for the Trail Blazers over the Raptors, GIF'd above.
Chris Paul, 34, three teams since 2010, last night: Scored 20 points in the fourth quarter and overtime to single-handedly beat the sorry-ass Nets, WHO SCORED TWO POINTS IN OT, 111-103.
Dwight Howard, 34, five teams since 2010, this week: Got his contract fully guaranteed on Tuesday, accepted an invitation to the dunk contest -- which he won in 2008 -- and nailed a 3-pointer in last night's blowout win over the Knicks.
Derrick Rose, 31, four teams since 2010, last night: Hit a clutch 2-pointer against the Cavs to give the Pistons a one-point lead with 25 seconds left.
Get your tents ready, folks. We're about to go occupy some Wall Street.
Let's take this to your inbox. Sign up below.